Organizations are getting better at recycling but as these e waste statistics show, there's a lot of room for improvement
If you need proof your company can play an important role in improving the global environment while raising its sustainability profile, just look at the e waste statistics.
Although retired electronics should be viewed as an urban mine of valuable materials, far too often it still ends up in landfills and incinerators, literally wasting billions of dollars worth of precious materials and rare-earth elements. The fact is much of what is labeled "waste" is not waste at all but electronic equipment or parts that can be remarketed for reuse or recycled for materials recovery.
E waste statistics: What the numbers say
To get a sense of the scope of the challenge, we put together an infographic with some telling e waste statistics. And by e waste we mean electronics that are no longer wanted or have become obsolete.
In the recent past that mostly comprised devices like televisions, DVD players, stereos, smartphones, copiers, fax machines, laptops, and desktop computers. Now, they are being joined by a whole new generation of products such as AirPods, vaping devices, body-mounted sensors, smart home technology, smart jewelry, gaming wearables, fitness trackers, and much more. The increased consumption of electric and electronic equipment, short life-cycles, and few options for repair make e waste the world's fastest-growing domestic waste stream. 
Boiled down into numbers, the global e-waste challenge looks like this.
Infographic: The state of global e waste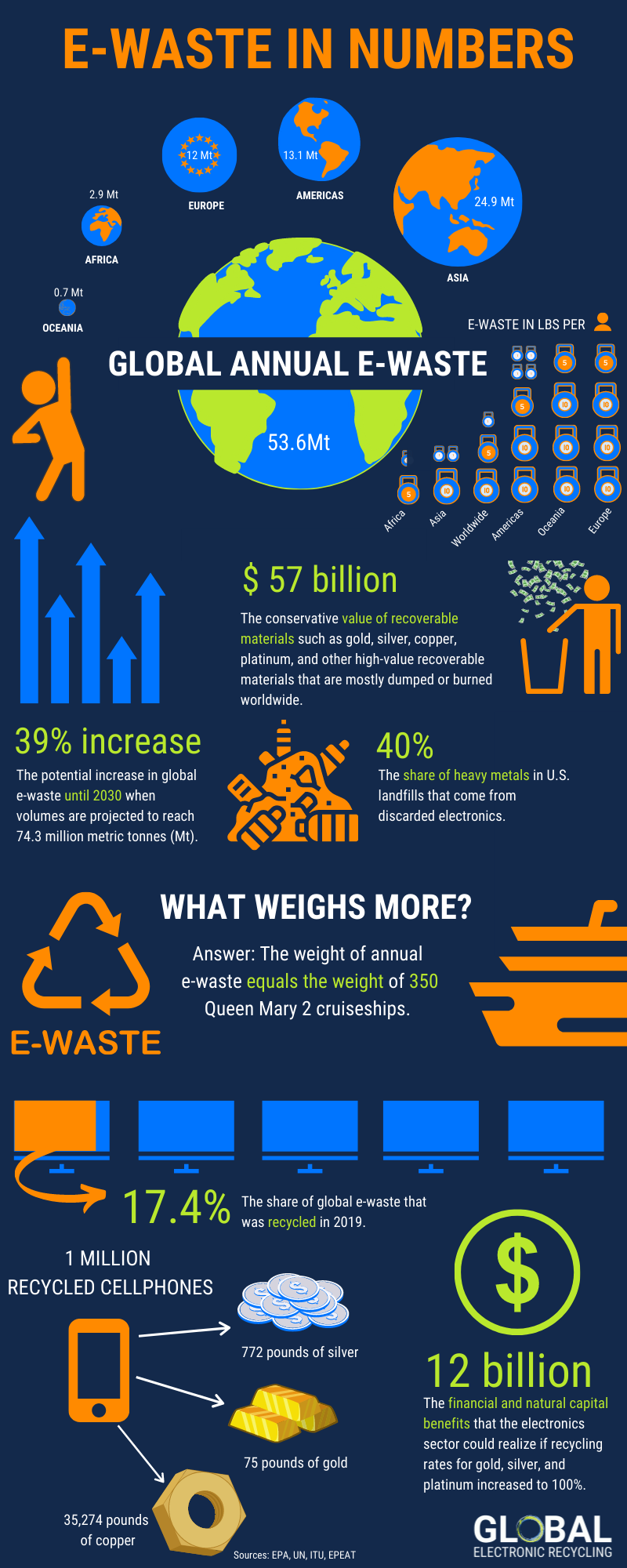 How much e-waste do we generate?
21% —The growth of e-waste volumes between 2014 and 2019, according to the United Nations.
39% — The potential increase in global e-waste until 2030 when volumes are projected to reach 74.3 million metric tonnes (Mt).
53.6 Mt — The amount of e-waste the world discarded in 2019.
6.92 Mt or 46 pounds —The annual volume of electronics that Americans part with every year in total and per person.
40% — The share of heavy metals in U.S. landfills that come from discarded electronics, according to EPEAT, a global green rating system.
2 Mt — The volume of lithium-ion batteries will reach the end of their life-cycle in the United States alone in 2040.
416,000 — The number of mobile phones Americans discard each day.
350 — The number of cruise ships the size of the Queen Mary 2 it takes to match the weight of current annual e-waste.
How much (or little) is being recycled?
17.4% — The share of global e-waste that was recycled in 2019.
9.4% — The share of e-waste the Americas recycle, far beyond Europe at 42.5%.
What's the value of e-waste?
$7.49 billion — The value of raw materials contained in e-waste produced in the United States in 2019.
$57 billion — The conservative value of recoverable materials such as gold, silver, copper, platinum, and other high-value recoverable materials that were mostly dumped or burned worldwide rather than being collected for treatment or reuse. It's a sum greater than the GDP for most countries.
40-800 — The number of times more gold one ton of circuit boards contains compared to one metric ton of ore.
1 million — The number of recycled laptops it takes to save the energy equivalent of electricity used by 3,657 U.S. homes in a year.
35,274 — The number of pounds of copper that can be recovered from every million cell phones (also: 772 pounds of silver, 75 pounds of gold, and 33 pounds of palladium)
$12 billion — The financial and natural capital benefits that the electronics sector could realize if recycling rates for gold, silver, and platinum increased to 100%.
Source: EPA, UN Global Waste Monitor 2020, International Telecommunications Union
Yes, the recycling industry is rising to the challenge. Are you?
The e waste statistics may seem dire but the good news is the recycling industry is rising to the challenge. Not only growing at record pace but also developing and refining new methods for the recycling of, for example, lithium-ion batteries, companies like Global Electronic Recycling possess all the tools to help you get electronics recycling right.
These days, as much as 95% to 98% of cobalt, nickel, aluminum, and graphite in electric car batteries can be recovered (the percentage is 80% for lithium). Why waste such valuable materials?
As we wrote in this blog post, you have a lot to gain from raising your company's green profile. It doesn't have to be as complicated as you may think to get the most out of your retired corporate IT assets. Contact us to learn more.

Read more
Business e-waste as Olympic medals: It's only the beginning
Want to become a sustainability leader? Your corporate e-waste management strategy matters
5 common e-waste management challenges you do better to address